Somewhere along the way, between the savings and loan crash in 1985 and CBRE's announcement of Dallas as its new headquarters in October 2020, the Dallas-Fort Worth region joined the upper echelon of the country's commercial real estate markets.  DFW can count itself among Los Angeles, Chicago, and New York City.
Exactly how it got here strikes at the heart of the region's viability, charm, and ability to adapt. It's a story about something called "coopetition," of good weather, available land not hemmed in by mountains or an ocean, and a steady flow of inbound moving vans filled with (primarily) Type A personalities.
It's also a tale of how DFW was a forerunner in creating a national commercial real estate market—one that's increasingly diverse and always evolving—despite the turmoil that has roiled our timeline. 
'We've Come a Long Way'
Mike Lafitte has been in the DFW commercial real estate market since 1984—long enough to witness the S&L bust of 1985, the 2018 regional bid for Amazon HQ2, and a global pandemic.
He's watched the evolution of the DFW real estate market, likening it to a boxer, knocked on his back by the S&L panic, who becomes a martial artist, turning adversity to advantage.
But unlike during the S&L meltdown, this market has withstood the pandemic's roundhouse punch, and—two calendar years in—is bruised, but still standing, evolving, and even shining above traditional top-tier markets.
"When I started in the business in 1984, there wasn't as much discipline—and there was a lot of exuberance in the market," Lafitte says. "Now, I think over time, the discipline of the marketplace has kicked in. The banks have done their job. Supply and demand balance matters a lot … and Dallas has been a magnet for job growth driving demand. And, as a result, it's a great place to do business."
A key backbone for all that progress: the massive amount of land available to the region, exceeding 9,000 square miles and enabling growth in every direction. With more room to grow, Lafitte said, there's less reliance on dense urban development and public transit, making the region more attractive.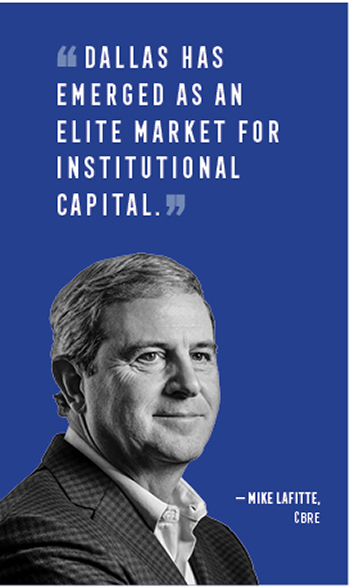 Lafitte, who is global CEO of CBRE's Real Estate Investments business segment and CEO of Trammell Crow Company, has found that COVID-19 spurred an explosion in the demand for warehouse construction due to the explosion of e-commerce and a decline in traditional shopping.
Institutional investors—both domestic and international—have watched that trend over time and have concluded that DFW is a safe market for their capital, he said.
All that institutional support has added up. During the first nine months of 2020, Dallas supplanted Manhattan for the top spot. What's more, RC Analytics concluded that between the second quarter of 2020 and the first quarter of 2021, DFW became the No. 1 U.S. market for commercial real estate construction, growing by 24% in that period—double the next-biggest market, L.A. 
Dallas-Fort Worth has "come a long way in becoming respected by institutional capital investors, such as pension funds, REITs, and other sophisticated investors," Lafitte says. "Dallas has emerged as an elite market for institutional capital."
The lack of drama in the DFW story is why investors are parking their money here, and why they're sleeping at night after they do.
'Coopetition'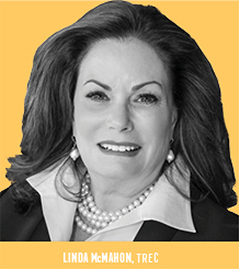 In describing what sets DFW's commercial real estate community apart, The Real Estate Council (TREC) President and CEO Linda McMahon recalls a meeting during peak pandemic a while back.
McMahon was speaking virtually with longtime Dallas real estate leader Lucy Billingsley, when Billingsley commented how much she appreciated being able to discuss the crisis with peers.
"Everyone was head-down, trying to figure out what they were going to do with their own business," McMahon recalls. "She said, 'I miss having these types of candid conversations about issues we are facing.'"
So McMahon talked to TREC Chairman Bill Cawley about organizing regular virtual meetings with industry leaders. Cawley gave the go-ahead, and the first meeting was organized, with the top 35 commercial real estate executives across the region invited to chat.
The resulting conversation was an example of "coopetition": The executives—who compete daily in the hard-scrabble world of commercial real estate—opened up and spoke of their own experiences, thoughts, and concerns.
"The spirit of transparency … has been unbelievable," McMahon says.
The intention wasn't to create content for public consumption, but that's what happened. That conversation now lives as a CRE Executive Roundtable podcast, along with 117 other TREC-produced podcasts. 
But how does this camaraderie give the Dallas Fort Worth region a competitive advantage in the commercial real estate market?
McMahon says this: "During the Amazon bid, I organized the Dallas response and worked with multiple developers who were clearly competing. But each felt confident in their own site and development team, so they worked together. 
"We had a few meetings when they were all in the same room led by [then] Mayor Mike Rawlings, and the spirit that they all expressed was, let's just win for Dallas. And then they each played their own game. And each one had a very different game."
Leaving Egos at the Door
Among the executives featured on the CEO roundtable calls was Invesco's Bert Crouch.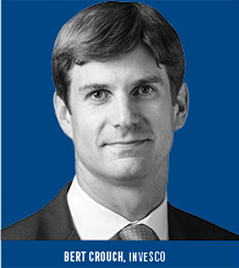 "I felt the need to reciprocate," says Crouch, managing director/head of North America Invesco Real Estate. "The calls resulted in very candid conversations. Getting all those executive-level people together, they left their egos at the door. They weren't being as close to their vests, as would have been the norm. You don't feel like people were pitching their book, or telling us what they wanted us to hear. It was very candid feedback on the retail environment, capital flows, financing, [and] who's doing what and why."
Though Crouch hails from Dallas-Fort Worth, he worked in San Francisco and Manhattan in Wells Fargo's Real Estate Merchant Banking Group. After an interim stop at Hunt Realty, he joined Invesco's Dallas office. 
"Invesco Real Estate was launching an opportunistic strategy targeting distressed commercial mortgages coming out of the Global Financial Crisis" of 2009, he wrote in an email to DALLAS® Commercial Real Estate. "So, they needed someone with a structured credit background to focus on acquiring one-off and portfolios of non/sub-performing commercial real estate loans, along with other opportunistic investments stemming from the downturn."
While in Manhattan, Crouch experienced the hypercompetitive, wildly diverse New York City market.
"My focus was on structured real estate lending in New York," he says. "There was no better place to do it. There's no more dynamic market for someone who was fairly young and trying to learn the business than in Manhattan."
Fast-forward roughly 15 years after he moved back to North Texas, and Crouch recognizes Dallas' arrival as a top-tier real estate market, and with that, the increased competitiveness and burgeoning diversity.
DFW History Shapes U.S. Commercial Real Estate
There's no denying Dallas-Fort Worth's growing influence in the commercial real estate industry, from 1948, when Trammell Crow secured his first lease (renting out space in his family warehouse), to October 2020, when CBRE announced its move from L.A. to Dallas. In that 70-year stretch, DFW's population soared from roughly 1.1 million to 7.7 million, Invesco established its commercial real estate arm here, Cushman & Wakefield CEO Brett White announced his move here, and DFW was named the No. 1 commercial real estate market in the U.S.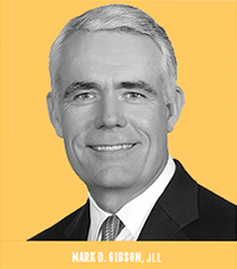 Mark D. Gibson, CEO for capital markets in the Americas at JLL, says that DFW is one of the most competitive real estate markets in the United States, including NYC, or any other major gateway city. He attributes that fact to the commercial real estate talent found in the region and says DFW played a key role in shaping the future of the industry. 
"You had companies that were based in Dallas—let's take Trammell Crow and the Lincoln Properties Company as two examples," he says. "Those were, and remain, highly innovative, partnership-driven companies that started in Dallas and expanded nationally. Those two enterprises were truly the early 'movers' that changed the model of commercial real estate.
"Prior to their expansion nationally, the commercial real estate industry largely consisted of parochial, locally owned and focused businesses," Gibson says. "So, again, the modern business model of national real estate companies can largely trace its beginnings to Dallas."
DFW's commercial real estate talent drew even more talent, and continues to do so, he says.
"It all revolves around the incredible commercial real estate talent that resides here, and that is due to large companies like Trammell Crow, Lincoln, and others," Gibson says. "Those companies were started in Dallas by highly entrepreneurial individuals who, in turn, attracted other highly entrepreneurial, talented individuals to Dallas, and that core talent base has greatly expanded as the industry has grown."
In 1993, Gibson—one of those highly entrepreneurial individuals he describes above—sold his house in Houston and tapped into his personal savings to open an office in Preston Center with his business partner, Joe B. "Jody" Thornton (who is now president of capital markets for the America's at JLL).
"I saw a burgeoning real estate business with best-in-class people," he says. "I thought it would be a great place to plant a flag, grow a career, and to raise a family."
Gibson says that while he doesn't see JLL moving its headquarters from Chicago to DFW, a significant percentage of the leadership of JLL North America resides in DFW.
'The Office is Not Dead'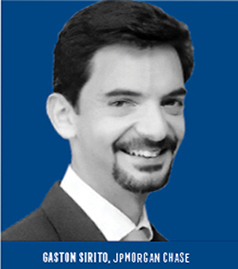 Although the abrupt switch to remote work challenged every company, few dealt with it as successfully as DFW's commercial real estate market, says Gaston Sirito, who oversees JPMorganChase's corporate real estate division and covers the southern U.S. and Latin America, extending from Florida to Nevada. That's another testament to the market's ability to adapt.
Those flexible and hybrid arrangements will remain in most workplaces for the foreseeable future—and shared office space will remain the hub for company activity, Sirito says.
"We are not just going back to the same place we were at the start of 2020," he writes. "Although we've seen some rightsizing of portfolios to account for remote working, I'm a firm believer that the office is not dead," he says. "While we all heard those initial declarations along the lines of 'we are never going back!', we really can't ignore the adverse effects of permanent remote working on companies' culture, brand, collaboration, innovation, etc."
Expanding in Territory, Diversity
Derrick Evers personifies the notion of growing diversity in commercial real estate in Dallas-Fort Worth. Evers—CEO and managing partner at Kaizen Development Partners—entered the scene in 2006, when he joined the Staubach company. Two years later, he joined Trammell Crow under the mentorship of Bob Sulentic, who, at the time, was CEO of Trammell Crow.
Over the years, Evers has seen the diversity of the DFW commercial real estate industry improve (though, he says, it still has a way to go). Sulentic is now president and CEO of CBRE.

"He's a wonderful man. In that time [we worked together], there was so much I picked up from him," Evers says.
"He said, 'Derrick, you've got to be impeccably trustworthy. To have that, you've got to sit down with the stakeholders and find what will work with them. This way, you'll have their trust.'"
Evers acknowledges that that approach is harder, but that's the tack his company is taking. From a design and implementation standpoint, Kaizen started incorporating advanced air-cleaning technology—called HVAC Load Reduction (HLR)—that uses super filtration of indoor air, rather than pumping outdoor air into buildings (especially desirable, considering DFW's sweltering summers). Customers typically realize energy savings of between 20 to 30%, according to manufacturer enVerid. Kaizen incorporated that technology into its Uptown development, The Link, before COVID.
In the relatively short 20 years that he's been in commercial real estate in DFW, Evers has noticed that the geographic and population growth of DFW has led to a cultural shift as well. The impacts, he says, range from attracting investors from across the globe, to more sustainable developments, to projects geared toward how they make occupants feel.
"Gone are the days of ultraconservative vernacular," Evers says. "We are becoming a melting pot of diversity. While we typically think of ethnic diversity, we are also seeing the diversity in thought and approach, due to the massive infusion of people not from the Lone Star State.  That additional exposure has made DFW very much a gateway for capital investments both domestically and internationally into our market."
A version of this story first appeared in the print edition of DALLAS® Commercial Real Estate 2022. Read more in the digital edition of the magazine below, and request the next print edition here.
Get on the List
Request the next print edition of DALLAS® Commercial Real Estate here—and sign up for the Dallas Innovates e-newsletter for what's new and next in North Texas business and CRE. To share your news or get information about the magazine, reach us here.
The real estate magazine is part of the DALLAS® media platform that includes the DALLAS® Relocation and Newcomer Guide and the DALLAS® Economic Development Guide. Published by Dallas Next for the Dallas Regional Chamber, together they tell the world about the future of live, work, learn, and play in North Texas.

Get on the list.
Dallas Innovates, every day.
Sign up to keep your eye on what's new and next in Dallas-Fort Worth, every day.